Upcoming Events
.Bonus Nights!!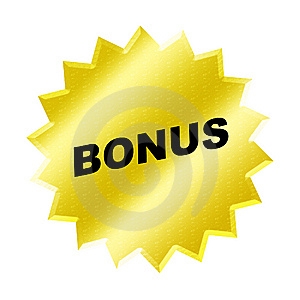 As if visiting the Elmwood Resort wasn't already special, we offer the return of BONUS NIGHTS!! Spend two consecutive nights at the Elmwood Resort between now and April 12, 2018  and stay an EXTRA NIGHT on us!!
Can't stay the third night due to work? Why not use the bonus for an extra extended check out time and let the kids swim in our indoor pool all day long!!
Availability for this special bonus night is limited and advance reservations are required.  Not valid Columbus Day Weekend.
This special may only be reserved by calling us directly at
(800) 697- 8566 or (207) 646-1038, so call and reserve today!!
.
.
.
Thanksgiving, Black Friday Specials, and the Lighting of the Nubble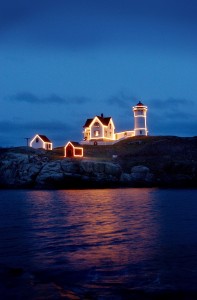 The Thanksgiving Holiday has grown more and more popular over the years as many of our guests take advantage of our stay two night, get one free special to come spend Thanksgiving in Wells and cash in on the local Black Friday deals throughout the region.
Capping off the weekend is a special enchanting night in York for all to see as the historic and famous Nubble Lighthouse dons its holiday splendor. Christmas music, carolers and cookies for all and Santa Claus makes a visit.
Circle this weekend on your calendar!   Purchase a Elmwood

Holiday Gift Certificate either by phone, online, or in person on Friday, November 24th thru Monday, November 27th and pay only $45 for a $50 gift certificate, or $85 for a $100 gift certificate. Gift Certificates may be
redeemed any time after January 1, 2018.
Call us at (800) 697-8566 for details and we will be happy to rush your certificate right out in time for the holidays!
.
Christmas Prelude Kennebunkport
November 30 – December 10, Kennebunkport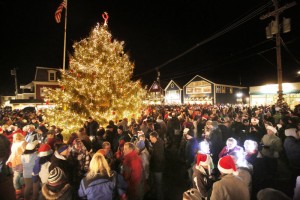 Recently voted the #2 Christmas town in America by HGTV, Kennebunkport's Christmas Prelude is now well into its 3rd decade of providing a magical holiday celebration for all generations. This spectacular ten-day event recreates the spirit and joy of the Christmas season, commencing the weekend after Thanksgiving each year. This authentic seaside celebration, sponsored by the Kennebunkport Business Association, has gained national recognition having been featured on the Today Show and written up in countless national publications.
A few of the highlighted traditions and favorite events include:
Tree Lighting Ceremony in Dock Square
Santa arrives by lobster boat escorted by two very special "lobster elves" in Dock Square
Candlelight Caroling at the Franciscan Monastery
Prelude Champagne Reception at The Nott House
Holiday Shopping at boutiques, shops & galleries with festive holiday refreshments and seasonal sales
Bonfire and singing of Christmas Carols by Choirs of Angels (and local talented youth groups)
Prelude Craft Fairs featuring hand-made Maine products
Blueberry Pancake Breakfast
Downeast Lobster Bake
Cape Porpoise Lobster Trap Tree Lighting
Santa Arrives by Lobster Boat at the Cape Porpoise Pier
Festive Holiday Fare, Special Menus & Entertainment throughout the event at Sponsoring Restaurants
Christmas Prelude Schedule of Events…
.
Christmas by the Sea Ogunquit
December 8 – 10, Ogunquit
"Ogunquit" in Native American means "Beautiful Place by the Sea", and at no time is that more true than during Christmas by the Sea. This annual seaside celebration brings the town of Ogunquit to life and to light with plenty of holiday cheer. The charming inns and stores are decorated in holiday spirit, and events galore await holiday visitors.
Friday night kicks off with Carolers and a Bell Choir Concert plus a cozy bonfire for revelers. Saturday's festivities include Hayrides, arts and craft fairs for eager holiday shoppers and Santa arriving at Perkins Cove. Shops, boutiques and art galleries offer shoppers a warm reception and a chance to accomplish their holiday gift list. The Chowderfest and Chocolatefest allow local chefs to flaunt their delicious skills, while shoppers enjoy tasty treats. An afternoon Christmas Parade down Main Street is a must. The evening Tree Lighting, caroling, candlelight walk and live Manger are all magical holiday events that capture the true meaning of Christmas.
Sunday, more hayrides and shopping awaits as part of Ogunquit's Christmas by the Sea. Free gift wrapping is available to address any holiday stress. The Southern Maine Christmas parade in Wells at 2 pm is the perfect culmination to your Christmas by the Sea weekend as it passes right by the Elmwood.
More Christmas by the Sea Info…
.
 Ring in the New Year in Style…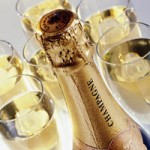 This year's festivities will be held right around the corner once again at Mike's Clam Shack. Your package includes two night's accommodations, two tickets including round trip transportation to and from the party, a four course dinner at Mike's Clam Shack, party favors, midnight champagne toast, a live band and much more!
Package Prices start at:
One Bedroom $369.95
Two Bedroom $409.95
Three Bedroom $529.95
Additional tickets to the New Year's Eve Party only $45 per person.
Our stay two nights get one free special may be used in conjunction with this package!!
Availability is limited so call now 800.697.8566